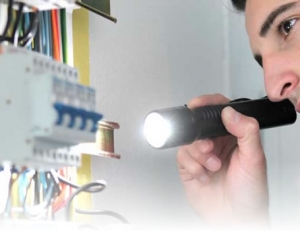 When in need of electrical repairs or electrical installation in Miami-Dade, Broward and Palm Beach counties, our licensed and insured electricians are here for you.
Every day, they help customers all over South Florida with their electrical problems and projects, 24 hours a day, 7 days a week.
Our dispatchers are available on the phone at 305-916-6255. One of our professional electricians is never far from where you are in the Miami and Fort Lauderdale areas. Most of the time, we can send you an electrician the same day.
Electricians available 24/7
Our electrical services are not limited to repairs. We also help with ceiling fans installations, fire alarms, maintenance and much more.
If you have an electrical emergency like a sudden loss of power or suspect a faulty wire, SoFlo-Electric technicians will provide with the best emergency electrical services at the best price.
Residential electrical services we provide:
Appliance Circuits
Arc-Fault Breakers
Attic Fans
Breakers & Fuses
Ceiling Fans
Electrical Outlets
Electrical Panels
Replace Hazardous Panels & Breakers
Generators
GFCI Outlets
Landscape Lighting
Lighting Fixtures
Meter Bases
Phone & Internet Cabling
Recessed Lighting
Smoke Detectors
Surge Protection
Switches / Dimmers
Troubleshooting & Repair
Whole House Fans